Underwater kite aims to turn energy tide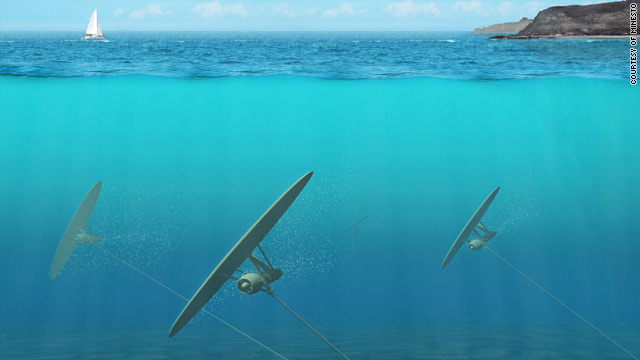 An artist's impression shows how the "Deep Green" device will function beneath the surface of the ocean.

London, England (CNN) -- A new type of tidal turbine which its creators describe as an "underwater kite" has taken a step closer to becoming commercially available.

"Deep Green," developed by Swedish start-up Minesto, has just secured $2.5 million from investors to fund testing scheduled to start in 2011. The technology comprises of a turbine attached to a wing and rudder which is tethered to the ocean floor by 100 meters of cable.

Anchoring "Deep Green" and steering the tethered "kite" enables the turbine to capture energy from the tidal currents at ten times the speed of the actual stream velocity, say Minesto.

When operational, the turbine is expected to generate 500 kilowatts of power.

One of the big advantages of their technology, Minesto executives say, is its small size -- 12 meters for the wingspan and one meter for the turbine -- relative to other tidal-energy designs.

According to Minesto's chief technical officer, Ted Rosendahl, this means that "Deep Green" can operate efficiently at sites with low current velocities and also at greater depths, allowing tidal energy to be implemented in new stretches of sea water.

The company hope to begin trials of a scale model in 2011 at Strangford Lough, in County Down, Northern Ireland -- which is already home to a commercial tidal power device operated by UK renewable energy company, SeaGen.

Rosendahl is confident that a commercial model of "Deep Green" will be available within four years but he says obstacles still remain.

"We are in the development stage at the moment so there are many things to look into. Of course there are things in the environment that we don't know about fully yet," Rosendahl told CNN.

Minesto was founded in 2007 and the project began back in 2003 as a spin-off from experiments at the auto and aircraft manufacturer Saab.

There are currently a variety of tidal energy systems on trial around the world, but according to the Energy Systems Research Unit at the UK's University of Strathclyde there are just two main methods employed.

One is tidal barrages, which use technology similar to that found in hydropower stations, while tidal stream systems -- like Minesto's "Deep Green" -- use the motion of the tide and work in a similar way to wind power generation.

Luke Blunden, a researcher at the Sustainable Energy Research Group at the UK's University of Southampton, is optimistic about tidal power's prospects.

"Tidal energy has the winning feature of being predictable -- in time particularly -- which makes it inherently more valuable," Blunden told CNN.

"Although it is more expensive, I think its reliability will win out in the end. It's not a [total] solution, but it will be part of the energy mix."

Article reprinted from cnn.com