Online Dating Scams
Russian Brides Expert Says Online Dating Scams Affect 99 Percent Of Male Users Of Internet Personals, Millions Of Dollars Are Lost To Fake 'Russian Women'
Russian Brides expert Elena Petrova says dating scams conducted through large personals sites are rampant, affecting virtually every male user of online dating sites. The losses are counted in millions.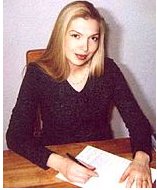 Elena Petrova - the creator of Russian Brides Cyber Guide
Virtually every male user of online dating sites has been affected by dating scams, says Russian brides expert Elena Petrova from www.WomenRussia.com. Internet criminals use sophisticated scripts and custom-built software to contact thousands of male users of Internet personals, creating fake 'Russian women' identities and requesting money for airplane tickets, following the old wives tale of 'mail order brides'.

Emails from 'Russian women'
According to Elena, men using online dating sites regularly receive emails from 'Russian women' offering friendship, love and marriage. Most users simply disregard such emails but some people are curious and can be sucked in.

Those emails are hoaxes
Elena warns, "99% of those emails are hoaxes designed by professional Internet criminals. All is fake -- letters, photos, and feelings. The texts of the letters are prewritten and often sent and received by a database-driven computer script."

"The only real thing in the whole story is the money that a man sends to someone in Russia. The people receiving the money often don't know they are part of a fraud scheme; they simply get a small fee for each transfer they receive. Once someone reports the fraud and the name is black listed by wire transfer companies, the criminals find someone else to receive the money for them."

Many scams run under dozens of identities and feature different sets of photos, which are often downloaded from the Internet. "Even my own photos were stolen from my site and used in a scam", says Elena. "Most men cannot tell real Russian women from fake Russian brides. The wise thing to do is to never send money to anyone you haven't met in person."

Once the contact is established, the criminals flood a man's inbox with love letters and revealing photos, promising sexual pleasures and love till the end of eternity. "Some men are lonely and therefore vulnerable; they want to believe this is for real and disregard warning signs such as the woman never answering their questions or commenting on their own letters. They don't do any research and pay dearly."

They can get a mail order bride
"Some men still believe they can get a mail order bride and all they need to do is to send her money for tickets. It doesn't work like this in real life."

The criminals can be located in Russia as well as in any other country. In 2004, an American man was jailed for conducting a Russian brides scam and defrauding more than 250 victims to the total amount of US$737,521. Another group arrested in Russia stole more than $1 million from its victims. Elena's Russian Women Black List (http://www.womenrussia.com/blacklist.htm) lists thousands of stories of men scammed of various amounts of money, publishing several new reports every week.

According to Elena, all online dating sites suffer from dating scammers. "I have just started a new Australian dating site www.SoulMades.com.au designed specifically for Australian singles, and immediately we had Russian dating scammers trying to contact our members. I am sure Yahoo Personals and Match.com have the same problems, just on a bigger scale. Scammers will try anything to get hold of available men. Most Internet personals don't screen their members and only require an email address from people to register. It's just too easy."

About Elena Petrova:
Elena Petrova founded Russian Brides Cyber Guide (http://www.womenrussia.com) in 1999 as an informational resource for men seeking a Russian wife. It was the first website about Russian women designed by a Russian woman. The site offers a range of articles, reviews and true-life stories for anyone interested in the subject of international marriages. It is also home of the infamous Russian Women Black List (http://www.womenrussia.com/blacklist.htm) publishing reports on online dating scams and how to prevent them.