Seven All Time Classic Western TV Series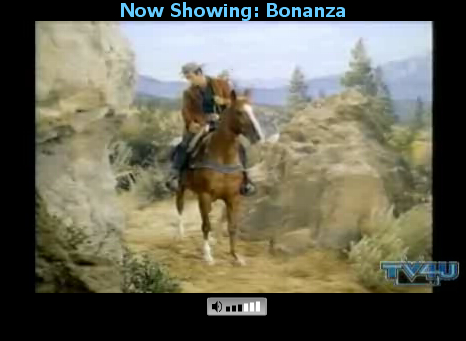 TV4U Presents Seven All Time Classic Western TV Series on its Free to Internet Television Network

TV4U, Inc. is launching its Western Channel on the TV4U.US internet television network with such classic shows as Bonanza, The Lone Range, The Rifleman, and Wagon Train.

Henderson, NV November 5, 2006 -- TV4U, Inc. has launched its Western Channel on www.tv4u.us. Top Western TV classics Bonanza, Wagon (PRWEB) November 5, 2006 -- Train, Shotgun Slade, Jim Bowie, Kit Carson, The Lone Ranger, and The Rifleman are all offered free to web viewers in their entirety. What's more, while ad supported, each of the shows are shown on an uninterrupted basis.

Bonanza was the top TV Western, the first produced in big budget color as a way for RCA to sell Color TV sets through their NBC Television Network. The show ran for 14 years and made stars of Michael Landon, Lorne Greene, Pernell Roberts, and Dan Blocker.

Wagon Train, which originally starred John Wayne ally Ward Bond, features shows with John McIntire as the Wagon Master. Wagon Train was a classic Western TV show. The Lone Ranger, starring Clayton Moore, was the first western actually produced originally for TV. It made stars of Clayton Moore and Jay Silverheels, who both can be seen on demand on www.tv4u.us.

The Rifleman made a Western TV star out of Chuck Connors, but he had earlier been a sports star, playing professional baseball with the Chicago Cubs and pro basketball with the Boston Celtics. Shotgun Slade, starring Western Movies star Scott Brady, was a takeoff on The Rifleman, and was a cult hit.

TV4U Western Channel is rounded out with a Saturday morning staple, Kit Carson, and one of the most successful early prime time westerns, Jim Bowie.

Bonanza, Wagon Train, Lone Ranger, Rifleman, Shotgun Slade, Kit Carson, and Jim Bowie fans can watch a free uninterrupted episode of Jim Bowie on demand at http://www.tv4u.us/western.asp.

In all, TV4U presents eight channels on their broadband network – Primetime, Action, Western, Detective, Comedy, Sports, Variety, and Vintage Channels can be found on TV4U.US. All are free to viewers.

"These are some of the greatest TV shows of all time" said TV4U CEO Charry Kennedy. "Being able to present stars like Michael Landon, John McIntire, Scott Brady, Chuck Connors, Clayton Moore, and Lorne Greene to Western fans is very exciting. We're pleased to be able to present them for free to viewers who can watch any show at any time on TV4U.US."