Six Years That Shook the World by William Koss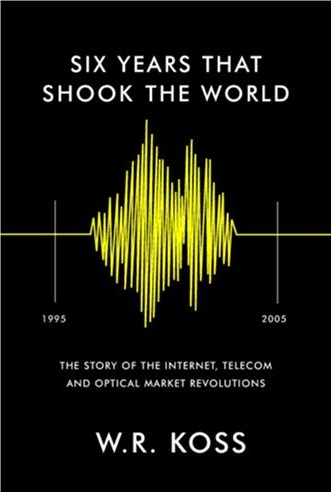 Six Years That Shook the World by William Koss gives a fascinating history of the Internet, telecommunications and the fiber optic revolution.

Boston, MA November 5, 2006 -- Six Years That Shook the World by William Koss reveals the analytic scoop on the Internet and telecommunications boom of the 1990s and the subsequent crash, but also points out new directions in the future for the telecom industries.

Global economy is directly affected by the development of technology, suggests William Koss in his thought-provoking new book. Koss recognizes the importance of innovation and government deregulation in the telecom and networking industries, and how, as technology markets push new ideas forward, political, economic and social change are created on a global level.

The communications industry invented in America, argues Koss, is now being led by multi-national companies which are located in other nations. If America does not want to relinquish leadership in networking and telecommunications, a real and complete technology infrastructure for a new economy must be developed. Groundbreaking and incisive, Six Years That Shook the World isn't just about America's past -- it's also about the future.
About the Author
William Koss has more than 17 years of experience in the networking industry, holding positions with technical, sales and operating responsibilities in the United States and abroad. He holds a Bachelor of Arts in International Studies from Norwich University. The former vice president of sales for Nortel Networks, he was also a vice president of global business alliances at Ciena. Currently, he lives with his wife in Boston, Massachusetts.
You can buy this book at Amazon.com