February 2007
New Heather Nova MySpace page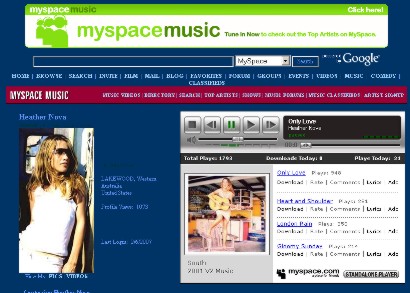 Did you know that there's a new Heather Nova page on MySpace.com for the fans in the States? Go to Url: "http://www.myspace.com/heathernova2"
Official forum online (again)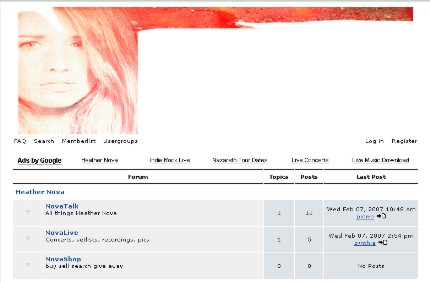 Did you know that the official forum is back online again? Well . . . it is and we decided to point our heathernova.info site to the forum.
Go to Url: "http://forum.heathernova.info" to visit the forum

The Netscape Portal is no smoking cigar to share your videos

==========================
written by Cynthia Fridsma
==========================
Amsterdam, February 7, 2007.
Did you know that Netscape is changed into a portal that is programmed by the audience? All of the stories on Netscape are submitted and voted on by users. The more votes and comments a story receives, the higher it is ranked in the list of Top Stories.
And it is possible to upload your own video too.

It just sound interesting enough to give it a try and I compared the service with blip.tv
Go to the section "news service, internet issues, Netscape" to read the complete article .
Did you know that you can have a talking website?
====================
Written by Cynthia Fridsma
====================
I've been searching a long time to make our Heather Nova Online Magazine more accessible for people with dyslexics, people with learning disabilities, people with English as a second language, elderly with impaired vision etc.

Than one day I found a great service on the internet, provided by ReadSpeaker and I decided to contact this company to see if it truly works with as result a 'talking Online Magazine', if you click on the 'SayIt' picture you see on top of each page.
Go to the section "Creativity, Webdesign - tips and more, Readspeaker" to read the whole article.