The Great Warming
The Great Warming" Opens Nationwide; Podcast Released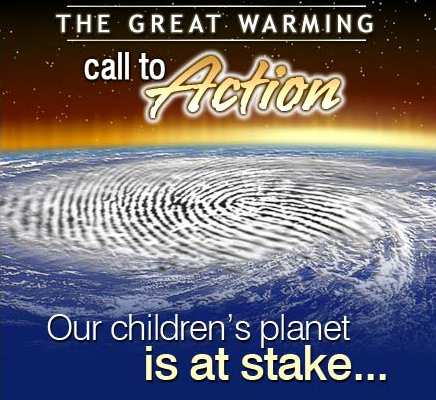 Film's producer/creator joins leading clean energy advocate in interview.
Moviegoers eligible for free home energy review. Climate change film narrated by Keanu Reeves and Alanis Morissette opens nationwide today.

Los Angeles, CA November 5, 2006 -- "The Great Warming," the new climate change documentary opening nationwide November 3rd in select Regal theaters, celebrates its opening with the release of a podcast featuring the film's producer and creator, Karen Coshof from Stonehaven Productions, and leading clean energy advocate Troy Helming, CEO of Krystal Planet and author of "The Clean Power Revolution."

The podcast is hosted at The Freedom Plan (www.thefreedomplan.org) blog and is available for download from iTunes and for streaming to mobile devices from Pod2Mobile.

The podcast addresses a myriad of topics, including the making of the film, its unprecedented ability to unite seemingly disparate organizations, such as evangelical groups and democrats, what it was like working with Keanu Reeves and Alanis Morissette, and how the average citizen can take their first step in going green and helping to curb global warming, among others.

"The Great Warming was intended to be an agent of constructive change and not simply preach to the choir or become mired in politics, which is why we felt it was so important to form a pact with Stonehaven and demonstrate that real world solutions are available today," said Troy Helming, CEO of Krystal Planet.

Krystal Planet eliminated the film's carbon footprint with FutureWind green certificates and hosted The Great Warming's Midwest premiere in Kansas.
"We are very hopeful that The Great Warming will encourage other Hollywood entities to make their films and TV shows carbon neutral or, stated another way, produced with zero carbon footprint," added Troy Helming.

The environmental impact of Krystal Planet's sales of FutureWind to date, before The Great Warming goes to theaters, is as follows:

- 30 million kilowatt hours of clean energy certificates sold
- 700 million pounds of CO2 and other greenhouse gases avoided
- Equivalent to planting over 5,000 acres of carbon-absorbing forests

At more than 32 movie theaters nationwide, Krystal Planet representatives will be on hand to distribute literature provided by the Sierra Club and other partners of the film. Additionally, green street teams will conduct sniping campaigns, plastering flyers and posters (all printed on 100 percent recyclable paper) at local health food stores, coffee shops, libraries, schools and community centers to drive people to the theater and offer the free Home Energy Review.