Warrior of the Three Moons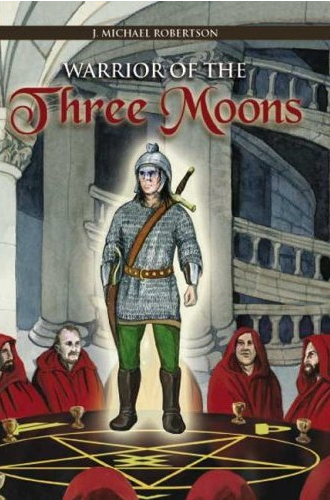 Good Versus Evil in a Stunning Tolkien-like Epic

Elements of Celtic myths pervade J. Michael Robertson's thrilling fantasy of a dark battle on a re-imagined Earth, Warrior of the Three Moons.

Hudson, NH November 5, 2006 -- Warrior of the Three Moons, Book I of the series, The God Wars of Ithir, by J. Michael Robertson, is a mesmerizing fantasy that explores the responsibility of gods towards those they govern.

Like Tolkien's famous Lord of the Rings, J. Michael Robertson's Warrior of the Three Moons offers mind-bending fantasy filled with indelible characters. In a time long past, the Khem Rá, First Born of Isis, Mother of All, come to Ithir (which is Gaelic for Earth). The humans of Ithir (Romans, Mongols, Celts, Egyptians, Elves, Trolls and more) do not understand that the god-like Khem Rá are only another sentient species and deify them. Thus the Khem Rá become gods and make the peoples of Ithir pawns in their eternal war against the Khem Úru, the Lords of Shadow.

This is sword and sorcery fantasy with a pedigree. Author Robertson is an avid student of ancient military history, ancient civilizations and Roman and Celtic mythology. His vast knowledge of his subject, coupled with his participation in historical reenactments of Scottish battles, bring a stunning authenticity to his novel. Part flight of fancy and part thoughtful page-turner, Warrior of Three Moons is wholly original entertainment.

For more information visit the author's website http://jmichaelrobertson.shadow-storm.net

About the Author
J. Michael Robertson is a retired United States Air Force officer and a Vietnam veteran. Currently a senior communications systems engineer with the MITRE Corporation, he is a member of the New Hampshire Writers' Project, the Sea Coast Writers'Association and a member of a historical re-enactment group. His poem, The Flowers of Culloden, has been published in the Clan Annual of Clan Donnachaidh in Scotland. He has two adult children and lives with his wife in Hudson, New Hampshire.