September, 2006
2006 International Songwriting Competition Deadline Quickly Approaching

Have Your Songs Heard By Tom Waits, Brian Wilson, Robert Smith (The Cure), Craig Morgan, Cassandra Wilson, and Many More!

September 28, 2006 -- The deadline for ISC is quickly approaching, so enter your songs now! Entries must be postmarked on or before October 16, 2006.

One of the largest and most prestigious songwriting competitions in the world, ISC gives away over $150,000 in cash and prizes to 56 winners. The Overall Grand Prize includes $25,000 (US) in cash – the largest cash Grand Prize of any songwriting competition in the world – and $20,000 in prizes. If that's not enough, ISC also gives away a full scholarship to Berklee College of Music's Five-Week Summer Performance Program to the First Place winner of the Teen category. ISC is open to both amateur and professional songwriters of every level, and all musicians, artists, and songwriters are invited to submit their original songs. Go to the section "Creativity, Songwriting Competition" for more information.

Pictures of Suikerrock 2006
Pictures from Heather at the Suikerrock festival in Tienen. The pictures are provided by the organization of Suikerrock at http://www.suikerrock.be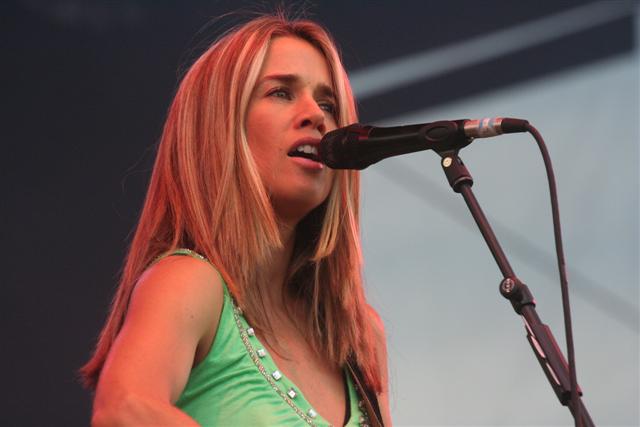 Photos reprinted on this website by the courtesy of http://www.suikerrock.be

Go to the section "Articles, Suikerrock" to see all the pictures

Plan Was to Sneak Liquid Explosives on Planes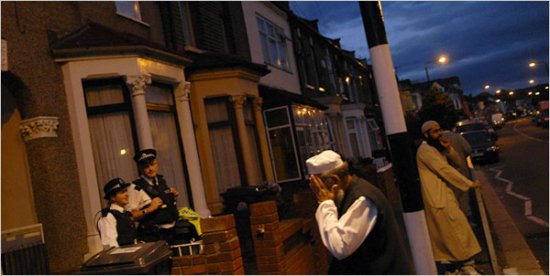 Andrew Testa for The New York Times

British police officers guarded a house raided earlier in London's Walthamstow District.

By ALAN COWELL and DEXTER FILKINS
Published: August 11, 2006

LONDON, Aug. 10 — The British authorities said Thursday that they had thwarted an advanced terrorist plot to blow up airplanes flying from Britain to the United States using liquid explosives that would have escaped airport security The officials said they had arrested 24 men, all British-born Muslims, who planned to carry the liquids in drink bottles and combine them into explosive cocktails to commit mass murder aboard as many as 10 flights high over the Atlantic.

Intelligence officials said they believed that some plotters were probably still at large, requiring increased airport security.

Airports, which faced chaotic delays and cancellations, instantly changed rules on what passengers could carry on board. In the United States, liquids, gels and creams were banned from carry-on luggage. In Britain, all carry-on items were barred except objects like wallets and eyeglasses without their cases.
Go to the section "News service, Newsletter of the New York Times, Terrorism", to read the complete article.
Heather Nova Rocks!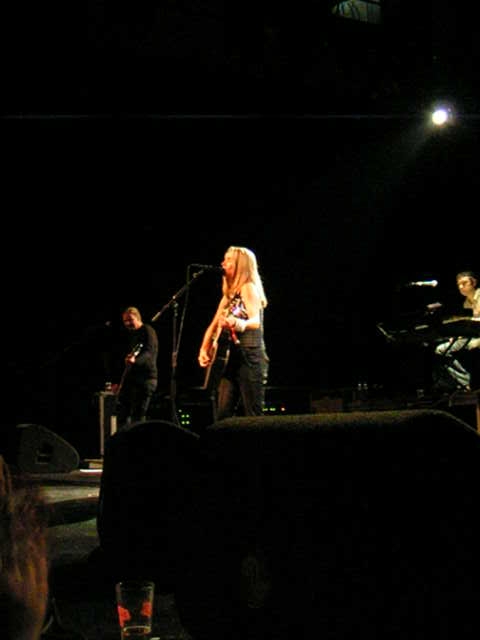 Picture of Heather Nova on stage in The Hague on August 2, taken by Cynthia Fridsma


= = = = = = = = = = = = = =
Written by Cynthia Fridsma
= = = = = = = = = = = = = =

The Hague, August 2, 2006.

The doors of the 'Paard van Troje', the place where Heather would do a performance opened at 7:30. P.m. and we went in. The supporting act by SneakerFreak started at 8:30. P.m. until 9:00. P.m. and was disappointing; mostly caused by a bad sound: the bass was too loud and the sound itself was distorted.

Please, no smoking
I think that this was the main reason why it took half an hour before Heather hit the stage, because the crew did a lot of sound checks. And before Heather enters the stage, one of the crew members took the microphone and requested politely, on behalf of Heather Nova, not to smoke during the concert. He was afraid that lots' of people would have shouted 'boo', but that was not so. In fact, everyone welcomed Heather's request with an applause.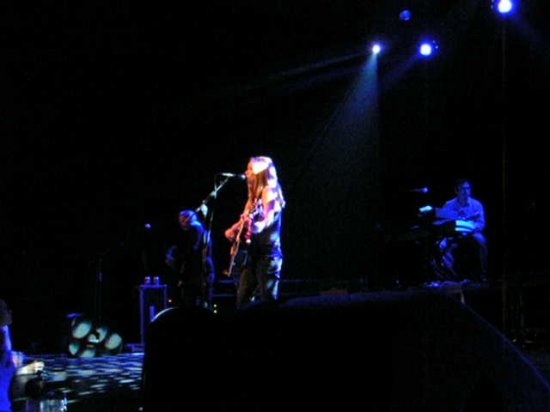 Heather Nova, Picture taken by Cynthia Fridsma

I miss the sky
Before Heather started with, I miss the sky, she explained to the audience that she received a letter the other day from a pilot who feels related to her (referring to Emilia Earhart - a female pilot who was lost on June 17, 1937 during a flight over the South Pacific. More information can be found at http://www.ellensplace.net/ae_lflt.html ) and started to play the song. I miss the sky can be found on the Redbird album.
Click here to download the introduction by Heather Nova in mp3 sound format

Whistles along with me
Heather did two acoustic acts too, without the band. First with the song Spirit in you (Glowstars) and then Every time (Storm). Heather introduced Everytime as follows "I called my friend and I said can you put some guitar on this song down for me and he said, sure. Just hang up the phone ....
Go to the section "Articles, Heather Rocks" to read the whole article and see a short video from Heather on stage.

Coming soon: a short video impression of the gig and more than 60 pictures of the gig in The Hage!
Send your story or pictures to cynthia@heathernova.info




83 photos of the gig in The Hague!


Hello world, here you can see some pictures I took during the concert on August 2, 2006


Go to the section "Articles, Heather Nova Rocks" to see the pictures I've selected for you.

If you want to see all pictures in full size, than you must go to the section "Gallery, Heather Rocks"




Pictures from Heather Nova at Roeselare








Pierre Rovasio took on March 18, 2006 some lovely pictures from Heather's performance at Roeselare in France.

Go to the section "Gallery, Heather Nova in Roeselare, March 18, 2006" to see the beautiful pictures that Pierre took. Thanks again, Pierre for sharing your pictures with us!








Letters to the editor
Do you want to post a message to the editor? Send your email to letters@heathernova.info

Do you want to read letters from the past? Than go to the section "Mail, Letters and comment

Hi Cynthia

Many thanks for your kind email. Funnily enough, the Shepherds Bush gig last year was where Heather and I first met – she took some of our Wonderfully Whiffies on the Redbird tour when it went on to Europe.

Thank you for putting the link on your page and I will send you some further information about the candles shortly.

Best Wishes

Teddy.
---
From: cynthia fridsma [mailto:cynthia@heathernova.info]
Sent: 12 August 2006 15:18
To: Teddy at Wonderfully Whiffy
Subject: Re: heathernova.net - not very good in my opinion

Hi Teddy,

To be honest, no offense, I didn't know anything about this lovely candle project. If I did know than I would have mentioned it on the Online Magazine, and yes: I am interested in running a review of Heather's candle on the website. Send me all the details and I will publish it on the site and give you all the credits for the article too.

I decided to mention your site under the section 'charities, heather's candle', which can be found at URL http://www.heathernova.us/index.php?page=226&category=209&relation=209

Heather's performance at the Sheperd's Bush Empire in London on September 30, last year was with a full band, you can see the pictures at http://gallery.heathernova.info/main.php?g2_view=core.ShowItem&g2_itemId=1681&g2_page=1

You can also read my review at http://www.heathernova.us/index.php?page=30&category=2&from=29

Perhaps she'll be back on stage next year in the UK....

Best regards,

Cynthia

Lokerse Feesten - i've met a true angel !

Hi R.

I am glad that you liked Heather Nova! She's simply the best and I am glad to know that you're now a big fan of Heather.

Thanks for sharing the hyperlink, I will contact the webmaster if I can use the pictures for our site too.

Best regards,

Cynthia
----- Original Message -----

From: R.

Sent: Sunday, August 06, 2006 1:13 AM

Subject: Lokerse Feesten - i've met a true angel !




Hello Cynthia,

Heather Nova was great yesterday evening at the Lokerse Feesten (Lokeren – Belgium) … I didn't know her too well, but now i'm a big fan …

You can see some pictures of the concert at www.lokersefeesten.be (see 'foto's – zaterdag 5 augustus).

Kind regards

Romain