The Netscape Portal is no smoking cigar to share your videos
==========================
written by Cynthia Fridsma
==========================
Amsterdam, February 7, 2007.
Did you know that Netscape is changed into a portal that is programmed by the audience? All of the stories on Netscape are submitted and voted on by users. The more votes and comments a story receives, the higher it is ranked in the list of Top Stories.
And it is possible to upload your own video too.

It just sound interesting enough to give it a try and compared the service with blip.tv

Uploading a Video on the Netscape portal
Uploading a video on Netscape was easy enough but then some problems occurs: the first video was sized 34.8 Mb in QuickTime format and was only partly loaded, though the same clip was fully loaded on blip.tv!

Okay, this can happen which is why I gave it a second chance! The second video I uploaded was sized 12.2 Mb also in QuickTime format and at first I thought that everything went fine but when I decided to play the video I discovered that there was no sound! While the same clip loaded perfectly on blip.tv.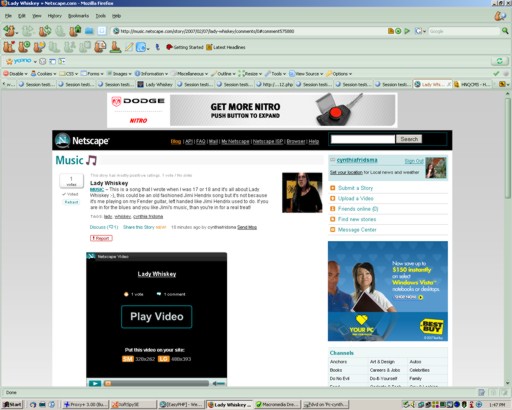 The Netscape Portal
How to delete your video?
I was a little disappointed. After all: the Netscape browser was one of the first Internet browsers and did you know that Firefox is based on Netscape?

Sharing videos via the Netscape portal isn't perfect but deleting your own videos isn't possible either. I discovered that I couldn't delete the videos although I wasn't satisfied with the results. If Netscape really wants to become a portal where users can share their own videos than Netscape still has a lot to learn about if they want to become a user-friendly portal where users can share their videos and stories because deleting your own contribution still isn't possible.

My netscape page can be found at http://www.netscape.com/member/cynthiafridsma/

My blip.tv page can be found at http://cynthiafridsma.blip.tv/

Until then I'll keep my blip.tv account to share videos on the Internet. Membership for Netscape and blip.tv are free of charge.