Author Uses New Medium to Promote Book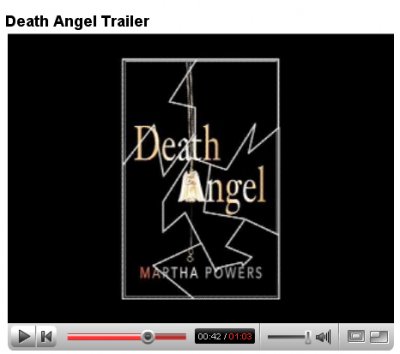 Award-wining author Martha Powers turns to YouTube.com to get readers talking about her latest thriller.

November 3, 2006 -- Award-winning author Martha Powers is exploring a new medium to get readers talking about her latest thriller, Death Angel. Powers has enlisted the aid of a producer to create a short trailer, (http://www.youtube.com/watch?v=HJjMyEwMd2E) based on the material in her book for YouTube.com, a consumer media company that allows users to create and share videos. Founded in 1995, YouTube.com now boasts over 70 million videos watched per day.

Powers says she got the idea of having her own video commercial for Death Angel after receiving countless short videos from friends and looking for an innovative way to generate awareness for her new book: "The book business is an ever-changing landscape. The traditional means of learning about books is still viable, but with the crowded marketplace and so many books and authors clamoring for attention, it is difficult to make your book stand out. Most authors are risk-takers, so it isn't unusual for authors to seek out new and innovative ways to promote their books. The internet is filled with possibilities."

Powers's trailer is based on the scenes in Death Angel she and the producer thought would be most visually-intriguing. Appropriately chilling and befitting what is hailed as a don't-start-this-late-at-night book, the Death Angel trailer is creating great buzz, says Powers. Powers adds that seeing her book come to life as a video was a rewarding experience, "It was a tremendous feeling to see the book put to video. Seeing the finished book for the first time is overwhelming, but this has added a whole new dimension to my experience as an author. There is something incredibly fulfilling about being able to watch the book come to life in a whole new way."

With strong advance reviews for Death Angel from Publishers Weekly and Library Journal, as well as a recent Book Sense Pick for November, Powers hopes the video will generate awareness at a consumer level. According to Powers, "It is yet to be seen whether this is an effective means of selling books. My goal with the video is to get people talking. In the book business, word of mouth is still the most powerful sales tool."

Death Angel is a chilling tale of what happens when a violent crime happens in a small town. Death Angel (Oceanview Publishing, ISBN: 1-933515-03-1) explores an unthinkable, unspeakable crime and the mind of an unconscionable killer. According to Roxanne St. Clair, bestselling author of Kill Me Twice, "Like the talisman that fuels the evil and drives the story, Death Angel is irresistible, seductive and spellbinding. Martha Powers has created a complex maze of rich characters, constant suspicion and unexpected twists."

Martha Powers is an award-winning author, sought-after speaker and humorist. She is the author of nine Regency novels and two thrillers published by Simon and Schuster. Oceanview Publishing is an independent publisher based in Massachusetts. The Oceanview catalogue includes Patricia Gussin's Shadow of Death, Ward Larsen's The Perfect Assassin, and the newly-released South Beach Shakedown by Don Bruns and Trash Talk by Bob Gussin. Death Angel is available in better bookstores.